About Us
About Adam G. Henrich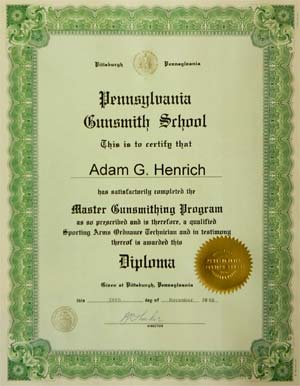 Adam G. Henrich is a native of Eden, N.Y. At a very young age he developed an intense interest in shooting, hunting, and hobby gunsmithing. He refinished his first rifle, a Mauser GEW 98, at age 12 and in the same year built his first muzzleloader from a kit. All through high school, college, and time in the military, hobby projects were attempted and completed.
Following graduation from high school, Adam attended the Colorado College, graduating in December 1996 with a BA in History. He also lettered 5 years on the football team and 2 years on the lacrosse team.
Adam volunteered for service in the USMC, attending and graduating from OCC in April of 1997. Additionally, Adam graduated from The Basic School, Infantry Officers course, Skills for Leaders in Advanced Marksmanship course, Non-Lethal Weapons course, and the Expeditionary Warfare School. During a nine year career as an Infantry Officer, Adam deployed for operations in Haiti, Albania, Kosovo, Turkey, and Afghanistan. He received two combat action ribbons, multiple expert rifle/pistol badges, and other various individual and unit awards.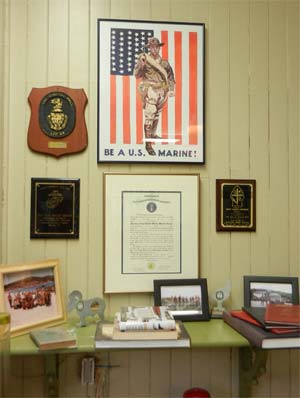 Unfortunately, an injury ended his active service in 2006. It was at this time that he decided to pursue a life time dream of owning a gun shop and becoming a professional gunsmith. Adam enrolled in the Pennsylvania Gunsmith School in 2007. He graduated in 2009 with the intent of opening a gunsmithing shop in the Western New York area. The John Henrich Company, Inc. was formally opened for business on June 1, 2010.
In addition to running the shop and store, Adam owns/operates a small grass-fed Highland Cattle ranch.
Adam is an Endowment Member of the National Rifle Association, a Life Member of S.C.O.P.E. and a Life Member of the Disabled American Veterans. He is also an annual member of the Eden/North Collins gun club, the Bogtrotters Gun Club, the Williamsburg Association, and the Cody Firearms Museum.
History of the John Henrich Company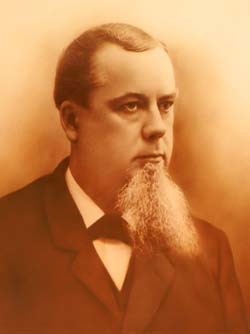 John Henrich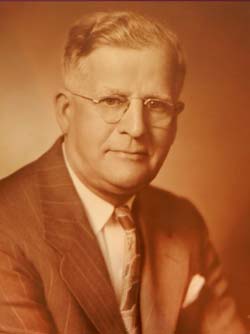 Louis T. Henrich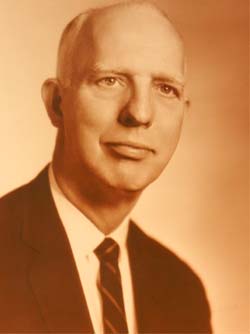 Ralph Henrich
The John Henrich Company, Inc was founded in 1867 by John Henrich, an emigrant from Prussia, at 422 William Street in Buffalo, NY. Previous to formal incorporation, John Henrich made his living as a traveling tinsmith in the German neighborhood of East Buffalo. He would push his cart up and down the streets fixing pots and pans brought to him by the housewives of the neighborhood. When he had saved enough money, John bought the store front and above floors on William Street to ply his craft and sell hardware and kitchen items. The family lived upstairs. John eventually expanded into wood and coal heating and cook stoves.
Following John's death in 1908, his son Louis Henrich took over the family business. Louis guided the business through WWI and the Great Depression. The Great Depression nearly sank the company, like many others, but hard work and frugality persevered. Louis's son Ralph formally joined the company following his graduation, the first in the family, from Cornell University in 1935.
Ralph, seeing an opportunity in the rapidly evolving area of electronic home appliances, started with Louis a second family company, Lee Distributing Company, Inc., in 1945. Lee Distributing became the main small appliance distributorship for all of Central and Western New York, and North Western Pennsylvania. The John Henrich Company continued serving as a retail establishment for appliances, cookware, and stoves. Ralph's son, John W. Henrich, grew up working for the family companies and formally joined both following his graduation from Harvard Business School in 1966.
Times got progressively more difficult for the original company on William Street. The neighborhood's social and ethnic makeup changed. The German neighborhood evaporated to the suburbs. Break-ins and the looting during the Blizzard of 1977 took their shots and finally convinced Ralph and John W. to close the original company in 1982 ending 115 years of reliable neighborhood service and a bedrock foundation of the American Dream. That corner store had supported four generations of the Henrich family and provided countless men their employment in support of their families. Not bad for an immigrant tinsmith with a cart, a few hand tools, and a chest full of determination.
Out of respect for his family's history and in tribute to his Great Great Grandfather's title as a "Smith", Adam G. Henrich chose to resurrect the family company name in pursuit of his American Dream to be a gunsmith and a neighborhood retail store owner in Western New York.